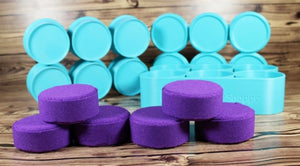 Three piece gumball sized bath bomb mold press trays are an alternative to the more expensive press designs. This listing includes 3 pieces-(2) bath bomb mold trays that create a custom number of gumball size bath bombs at a time & (1) body.
• Made to order in a random color
• Processing time (from order placed to shipping) for this mold is 1-2 weeks
• Measurements:
• Specified in listing options
• Sized from the farthest point at the left to the farthest point to the right (see pictures for details)
• Measurements are always taken from the inside lip/edge
• Available to be 3D Printed with Standard. 
Our standard materials are basic plastics, such as PLA. Standard is heat sensitive, must be hand washed in cool water, cannot soak in any liquids, and may need to be sanded smooth over time. You may need to add a mold release product (cyclomethicone, isopropyl (rubbing) alcohol, etc) to the mold to help cleanly remove your mixture.
• This is a manual, hand press and not recommended for a pneumatic/electric press. Please contact TheMakerShoppe if you would like molds for a pneumatic/electric press.